Bright Futures, Brightfutures
New Cunningham Center
Live Construction Progress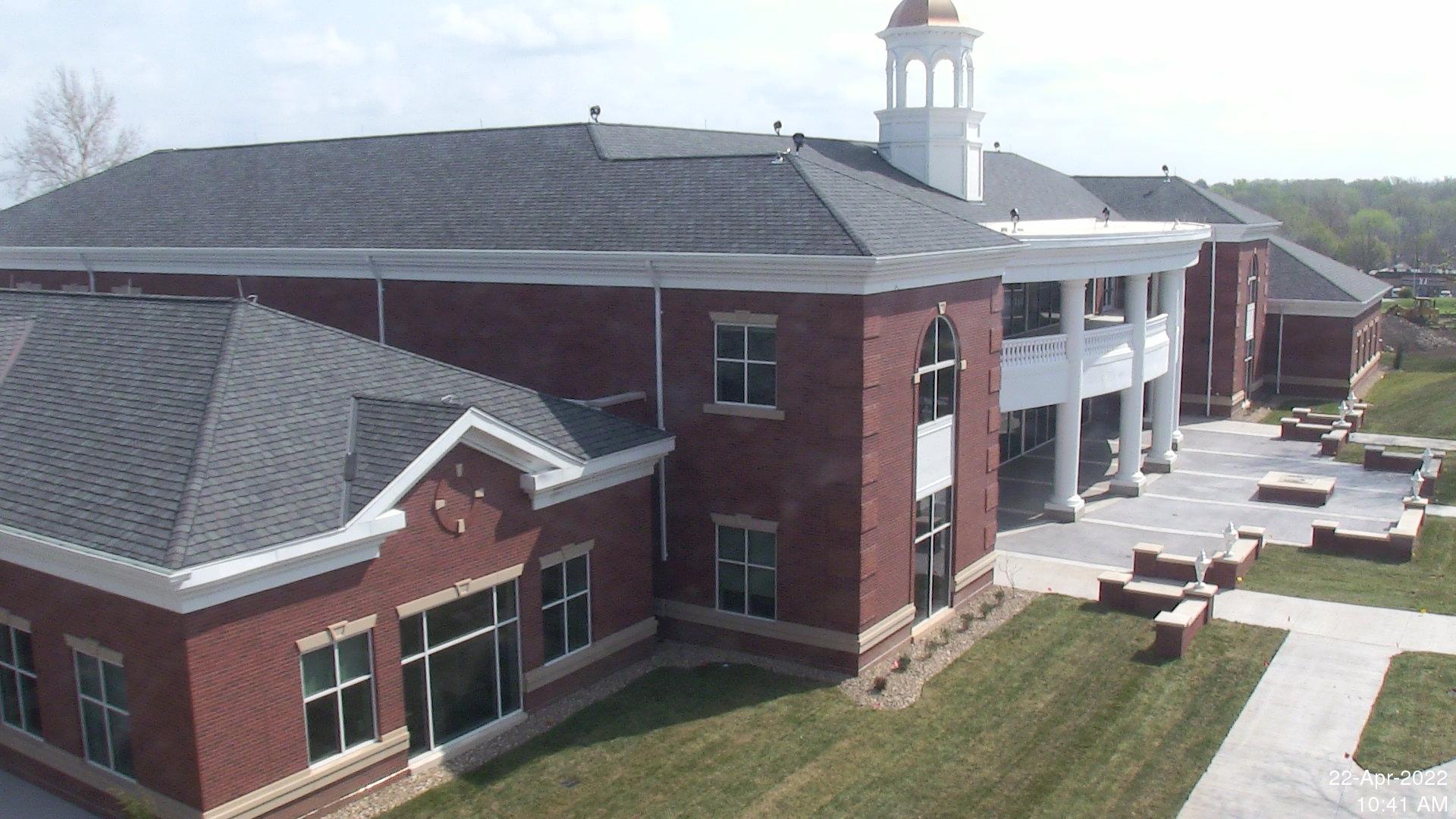 New Cunningham Center – 50,000 sq. ft. facility.
Groundbreaking Event
Cunningham Center
"Groundbreaking on the $20 million Cunningham Center was held Friday, August 28, 2020 on the campus mall at MNU. The new building, which is part of the Bright Futures Campaign for MNU, will house student services, the dining hall, Admissions and more. Plenty of space for community gatherings, meetings and socializing is planned. The building will replace the Campus Center, one of the university's first five original buildings.
The building is named for the late Dr. Paul G. and Dr. Connie Cunningham, whose ministry and vision has been part of MNU since before its inception.
The ceremony began with remarks from Dr. Jon North, vice president for university advancement, an invocation from Chairperson of the Board of Trustees Rev. Jim Bond and remarks from Craig Garrett, a senior student and president of Associated Student Government."
"This building will be a huge asset to the students," Garrett said. Adding that it will be a place to form friendships and make memories. He then thanked university leaders and the generous donors who helped make the vision of this building a reality for generations of students to come.
Campaign co-chairs Tim Buchanan and Dr. Dan Rexroth also spoke. President David Spittal expressed thanks for sacrificial fundraising support from many, to a crowd of about 200. Social distancing was employed at the event.
The ceremonial breaking of ground then began.
The Dream Lives On
MidAmerica Nazarene University has a rich heritage built upon the strong faith and pioneer spirit of our founders. Thanks to God's gracious guidance and the contributions of committed faculty, staff, students, parents, churches and donors, MNU has grown from its five original buildings and 263 students on a former Kansas cornfield to become a beautiful, thriving campus with 21 colonial-style buildings, an enrollment of 1,870 students, and nearly 30,000 alumni.
Today, after nearly 50 years of growth and change, MNU continues to be driven by its distinctive vision that seeks to impact the world for Jesus Christ through servant leaders who are recognized for their excellence, integrity, and spiritual vitality. Amid the relentless pace of change in our society, MNU is a sanctuary for something of enduring value: scholarly inquiry that is rigorous and centered on the growth of the individual student through the integration of Christian faith and learning.
We are grateful for the integrity of the vision that set MidAmerica Nazarene University in motion, for the strategic choices that have brought us to this moment in our history, and for the evolving vision that shapes our future.
Captial Projects Campaign
Construct the Cunningham Center

In order to foster a vibrant living and learning community, we must build stronger connections across our campus by providing a place for all our students to interact together and with faculty.

We plan to replace the existing Campus Center and build a brand new, state-of-the-art, multi-use space. The Cunningham Center will also allow us to reimagine the space that houses the Enrollment Development, Student Financial Aid Services, Student Development and the campus store. It will provide a larger and more efficient dining area, an expanded kitchen and new meeting spaces. We want to give visitors an incredible first impression of MNU while better serving our students, faculty and staff.

Construct a New Athletic Complex & Stadium

Pioneer athletics have increased MNU's visibility and reputation. Now, we're taking the next step toward excellence by planning a first-rate athletic complex that will meet the needs of our existing program while allowing us to serve more student-athletes and develop new athletic programs.

A 2,000 seat stadium will give us the opportunity to reconnect the Pioneers with their home crowd. A new field will bring a home-field advantage to many of our teams. A new track will provide practice and competition space for the track-and-field and cross-country teams.
Capital Project Progress
By building new facilities, we enhance our capacity to serve more students in the future. Through reinvestment in existing facilities, we ensure that our campus is more functional, welcoming and environmentally responsible.
Bright Futures - Capital Projects from MidAmerica Nazarene University on Vimeo.
Capital Project Progress
Raised
$

22.2

Million
Goal
$

28.1

Million
Academic Projects Campaign
University Support Campaign
University Support Progress
MNU is committed to transforming lives by providing Christian education responsive to the needs of 21st Century students. Providing support for current operations and endowment purposes is essential for building MNU's fundamental financial strength and security to make our mission a reality for future generations of students.
University support provides the resources necessary to realize our bold aspirations and to carry MNU forward as we enter a new chapter in our history of inspired learning, innovation, creativity, and taking advantage of emerging opportunities.
Bright Futures - University Support from MidAmerica Nazarene University on Vimeo.
University Support Progress
Raised
$

26.9

Million
Goal
$

26.2

Million
We'd love to hear from you
Let our team share how you can get involved or simply listen to the ways MNU has blessed you
Office of University Advancement
1-877-496-8668
Our Campaign Progress
Raised
$

65.7

Million
Goal
$

75.0

Million